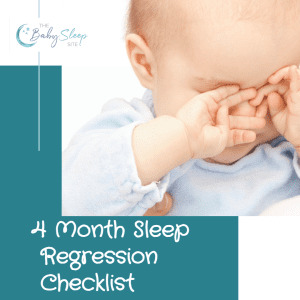 The 4 month sleep regression is a doozie for most new parents – it seems to come out of nowhere! Just when you think your baby's sleep is improving, and that you might be "out of the woods", sleep-wise, BOOM – sleep falls apart completely.
It's easy to see, then, why the 4 month sleep regression is such an incredibly popular topic with our readers! We hear from numerous parents each month who want to know how they can prepare for the 4 month sleep regression, what to do during the regression, and then how to recover from the 4 month sleep regression and get sleep back on track.
Well, wonder no more – we're sharing all this information (and more!) in our 4 month sleep regression checklist.
What To Do Before The 4 Month Sleep Regression Hits
As a newborn, her sleep patterns are very different than the more "grown up" sleep patterns she'll have after the 4 month sleep regression is done, so we do have to keep realistic expectations. There are some gentle sleep coaching tips for newborns, but don't get your hopes TOO high for stellar sleep around this time.
Don't assume anything about your newborn's sleep is permanent. If your baby sleeps through the night a few times, you may assume the worst is over, and that your sleep worries are done. While that might be true (it is for a few lucky families), most parents report that sleep patterns are very inconsistent in the first 3-4 months of life – and the 4 month sleep regression tends to disrupt even the most champ sleeper's sleeping habits!
Rest up! While it's a great idea to gently build a foundation of healthy sleep habits for your newborn, you don't want to exhaust yourself striving for perfect sleep, since much of the progress you do make may be impacted by the 4 month sleep regression.
What To Do During The 4 Month Sleep Regression (a.k.a. How To Survive Without Losing Your Mind!)
To begin, remember that this is a temporary phase – your baby won't always be waking this often at night, or napping so poorly! These are just the effects of a burst of growth and development on your baby's part.
If your baby is in daycare, alert your daycare provider that the regression is underway, and give your provider details as to how they should handle the extra fussiness, and the missed or shortened naps.
Don't expend much energy on trying to improve your baby's sleep during the 4 month sleep regression – its usually best not to sleep coach during a sleep regression, if you can help it, as your baby's brain is just too preoccupied with the tremendous growth and development that's happening at this time to really learn new sleep habits.
If you've already worked on self soothing, and putting your baby to bed awake, before the 4 month regression strikes, you can either continue in your usual sleep routines (if your baby's sleep disturbances are manageable), or you can suspend your efforts and go back to putting your baby to sleep any way you can (if your baby's sleep is falling apart completely due to the regression).
Be prepared for naps and feedings to change during the 4 month sleep regression – increased nighttime waking and missed naps can lead to overtiredness, so don't hesitate to offer longer, or extra, naps, or an earlier bedtime.
Get extra sleep yourself, if you can manage it! Your baby isn't the only one whose sleep suffers during this regression; the extra night waking can take a real toll on you, too.
What To Do After The 4 Month Sleep Regression: Establishing New, Permanent Sleep Habits
It can be tough to know exactly when the 4 month sleep regression is over – for some families, it seems to last less than a week, while for others, it lasts more like 6 weeks! As a general rule, however, you can expect the regression to last 2-3 weeks.
Once the regression ends, you may notice that your baby's sleep calms down, and returns to a semi-normal state. This is a great time to start sleep coaching. However, some families tell us that it feels like the 4 month sleep regression never ends – their babies are still just as fussy months later! In those cases, you can consider the actual regression over after about 6 weeks, and then start sleep coaching at that point.
You don't have to sleep coach the moment the 4 month sleep regression ends; some families prefer to wait until their babies are 6 months old. 6 months of age is when sleep tends to consolidate and your baby's naps tend to become longer and more predictable; this is also the point at which it's easier for most families to achieve a fairly consistent daily schedule.
Contact The Baby Sleep Site® for help! I couldn't end without throwing this point in. 🙂 Getting sleep back on track after the 4 month sleep regression can be tough, but a Personalized Sleep Plan® from The Baby Sleep Site® can make a huge difference. Our team of expert, caring sleep consultants is standing by, ready to craft a Personalized Sleep Plan® just for your baby – one that accounts for your baby's unique temperament, and your own parenting style and goals. Even better – your consultant can walk you through every step of implementing the plan at home, and answer all your questions!
Need More Resources?
For even more 4 month sleep regression help, check out these resources, available in our VIP Members Area:
We hope that this 4 month sleep regression checklist helps your family! Let us know how it's going!